33 Trawalla Ave
Thomastown VIC 3074
8:00 AM - 4:30 PM (Mon - Fri)
8:00 AM -12:00 PM on Sat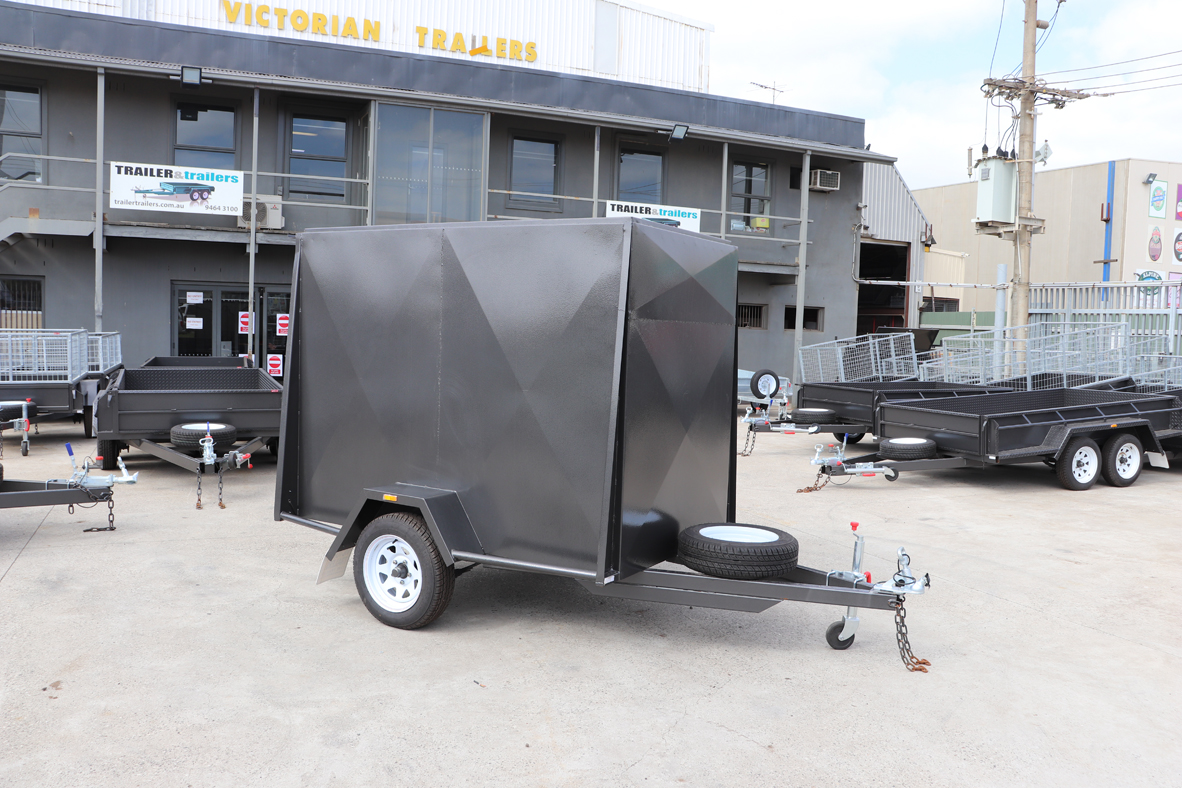 Van Trailers are yummiest sort of trailers. This is because the full name of these trailers is food van trailers or food and van trailers. These remarkable trailers come packed with a kitchen and serve a whole banquet if required. Van trailers in Australia are popular for serving fresh food products anywhere and anytime.
As you might have guessed by now, the striking feature of van trailers is the kitchen that has been built in. You can have a regular cooking range with chimney, or a baking oven, customized into it. The kitchen and its quality should be judged separately. The price can rise above the price of the basic van trailer and thus should be carefully evaluated. Most local manufacturers of van trailers can advise and build the van trailer to your requirements. Van trailer manufacturers in Australia are competent and reliable. It is preferable to go to a van trailer manufacturer rather than a van trailer dealer in Australia.
The basic empty van trailer without any fittings could be referred to as a box trailer. You prime interest would be to quality of materials used in the manufacturing of the basic van trailer. There are three areas of particular interest – the floor, the frame and the top.
The floor of a van trailer should be rugged. A kitchen floor is constantly under brutal attack. It is normal for people to drag things on the kitchen floor. If you are cooking, ensure that you can clean up the van trailer floor easily. Opt for a chequer-plate steel floor if possible. This floor is among the toughest and relatively easy to clean. It will also prevent the people inside the van trailer from slipping.
Click here to contact us.
The frame of the van trailer should be strong by material and design. Prefer hot dipped galvanized metal for the frame. Design can strengthen the van trailer while allowing to be light. Use of substandard materials or poor design can cause the van trailer to be unusually heavy. As a result, you will be allowed to carry fewer things in the van. What's more, you may not be able to manage the fittings that you require within weight requirements of the van trailer.
The top if the van can be a single material or a mix of materials. The aim should be to keep the van trailer light while fulfilling the purpose. If the material used is not so rugged, use pieces of chequer-plate steel at key locations e.g. around the corners and areas at are touched a lot. This would include water and electricity junction boxes.
There is nothing like experiencing these van trailers first hand. Drive down to your local van trailer dealer in Australia and take a look. You will get a fair idea of the budget and requirements involved. It is also not a terrible idea to buy a van trailer on sale. These models may not have the requirements as per your specs, but you can judge the finished product and make that decision. Alternatively you can buy a second hand van trailer in Australia. Always ensure inspection when you buy second hand.
Van trailers are ideal for food selling. They are a practical pick and go kitchen. They are easy to secure and park. Van trailers are easy to buy and resell. You will be able to choose from a wide variety of van trailers in Australia.
Read more about What is Box Trailers?