33 Trawalla Ave
Thomastown VIC 3074
8:00 AM - 4:30 PM (Mon - Fri)
8:00 AM -12:00 PM on Sat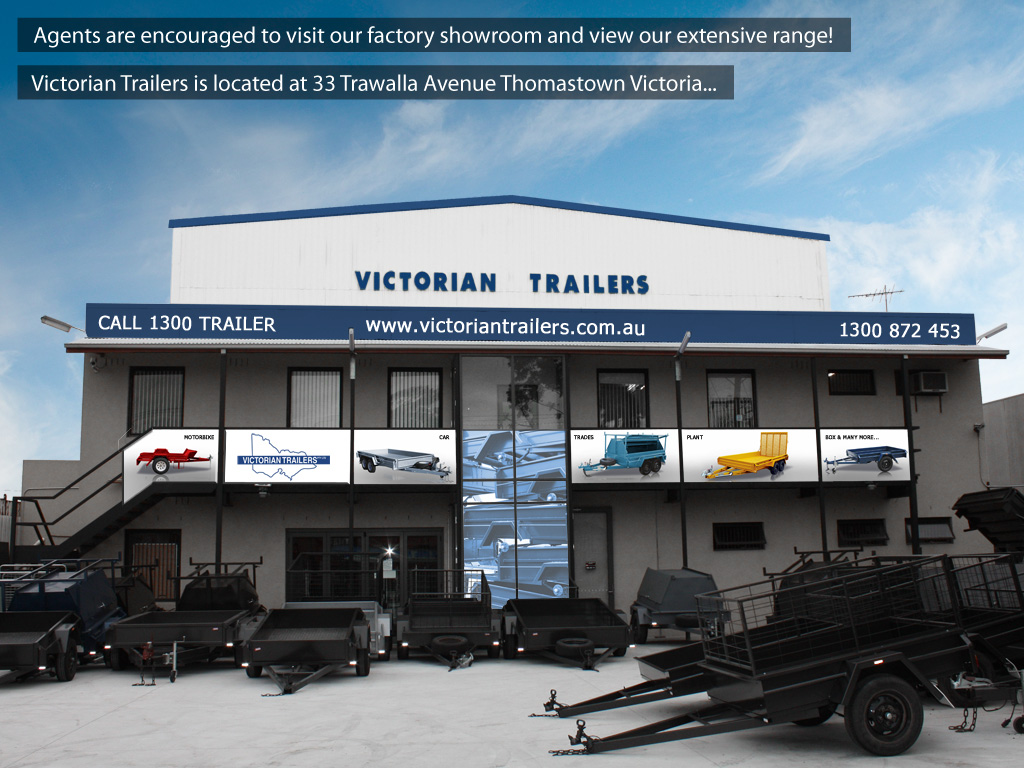 Victorian Trailers proudly sell high quality yet affordable trailers tailored to meet the needs of different individuals that form a diverse consumer market. All Victorian Trailers are made to conform to the stringent Australian Design Regulations (ADR) and Australian Safety Standards (AS) which places safety and optimum performance as the first priority.
With over 31 years experience in the trailer manufacturing business, our committed staff at Victorian Trailers possess the experience and expertise to deliver trailers of the highest quality and manufactured to suit your individual requirements.
Our manufacturing facility and showroom is located in Melbourne's North, about 30 minutes from the Melbourne CBD and is situated just off the Metropolitan Ring motorway. Victorian Trailers supply Australia wide with agents in every state. Please contact us for your nearest agent.
Please browse through our website to view our extensive trailer range and feel free to make an online enquiry about one of our trailers or to specify your custom requirements.
Quality
Through the the trailer design, engineering,  use of materials and production control to achieve quality products.
Value
Our trailers are manufactured using the best features, components and minimal costs without compromising on quality or safety.
Function
Experience and expertise over the years has led to design for the functional requirements of each trailer type in every industry.
Safety
Each trailer type is engineered and designed to meet or exceed the Australian Safety Standards and Design Regulations.
Variety
Victorian Trailers manufactures almost every trailer type on the market and offers bespoke custom design manufacturing as well.