33 Trawalla Ave
Thomastown VIC 3074
8:00 AM - 4:30 PM (Mon - Fri)
8:00 AM -12:00 PM on Sat

Victorian Trailers welcomes new agents/ retail store operators that would like to showcase and sell our trailer range. No matter where you are, we can manufacture and deliver your trailers Australia wide, we already provide logistics transporting to Queensland, New South Wales, South Australia, Tasmania and extensively throughout Victoria.
Along with our diverse and comprehensive range of quality trailers, benefits of becoming a Victorian Trailers agent include automated redirect phone calls from our "1300 TRAILER" phone number, access to a range of spare parts and trailer accessories, access to our network of specialised design and marketing services and peace of mind knowing that you are dealing with experienced professionals who have been in the trailer manufacturing industry for over 31 years.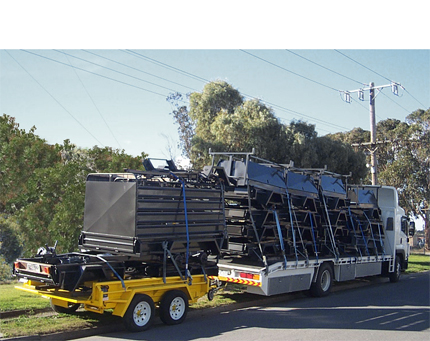 The process in becoming a retail agent for Victorian Trailers is quite simple, just call us on 03 9359 3122 to arrange for an initial meeting (or phone meeting for interstate  applicants) whereby we will discuss the following :
The nature of your business – Do you plan to exclusively sell trailers or do you also sell other non-trailer related products?
The location of your business – Where are you physically located? Do you have a showroom or yard to display and store your stock? Do you plan to sell online only and if so where will you store your stock?
Your marketing approach – How do you plan to promote and generate sales of your trailers? Do you have a website? Do you have a brand name?
Experience – Are you mechanically minded? Can you service/ perform minor assembly to the trailers? Do you have a forklift? Have you had trailer/ similar retail experience before?
Agent integrity – We will discuss the basic ethics required as an agent such as maintaining exclusivity in stocking our trailers, payment conditions, performance requirements, consumer relations and so on.
Remember that the Victorian Trailers' agent policy  is one that provides our agents with exclusivity within an area. That being that we will not take on another agent or supply our trailers to another business within a  radius any less than 20km from an existing agent's retail outlet.
So please, do not hesitate to contact us as soon as possible, we are waiting to hear from you.
Current Agent Opportunities
South Australia
Victorian Trailers are inviting prospective agents to create retail outlets in Adelaide and throughout rural South Australia. If you are interested in becoming an agent,  please contact us today.
New South Wales
We require retail outlets in Sydney, Newcastle, Woolongong and throughout coastal and rural New South Wales. Please contact us today if you would like to become an agent.
Western Australia
If you are out west and want to stock our trailer range, please get in touch with us as we are keen to to have agents in Perth, Albany, Bunbury and throughout Western Australia