33 Trawalla Ave
Thomastown VIC 3074
8:00 AM - 4:30 PM (Mon - Fri)
8:00 AM -12:00 PM on Sat
Find a Quality Car Trailer for Sale at Victorian Trailers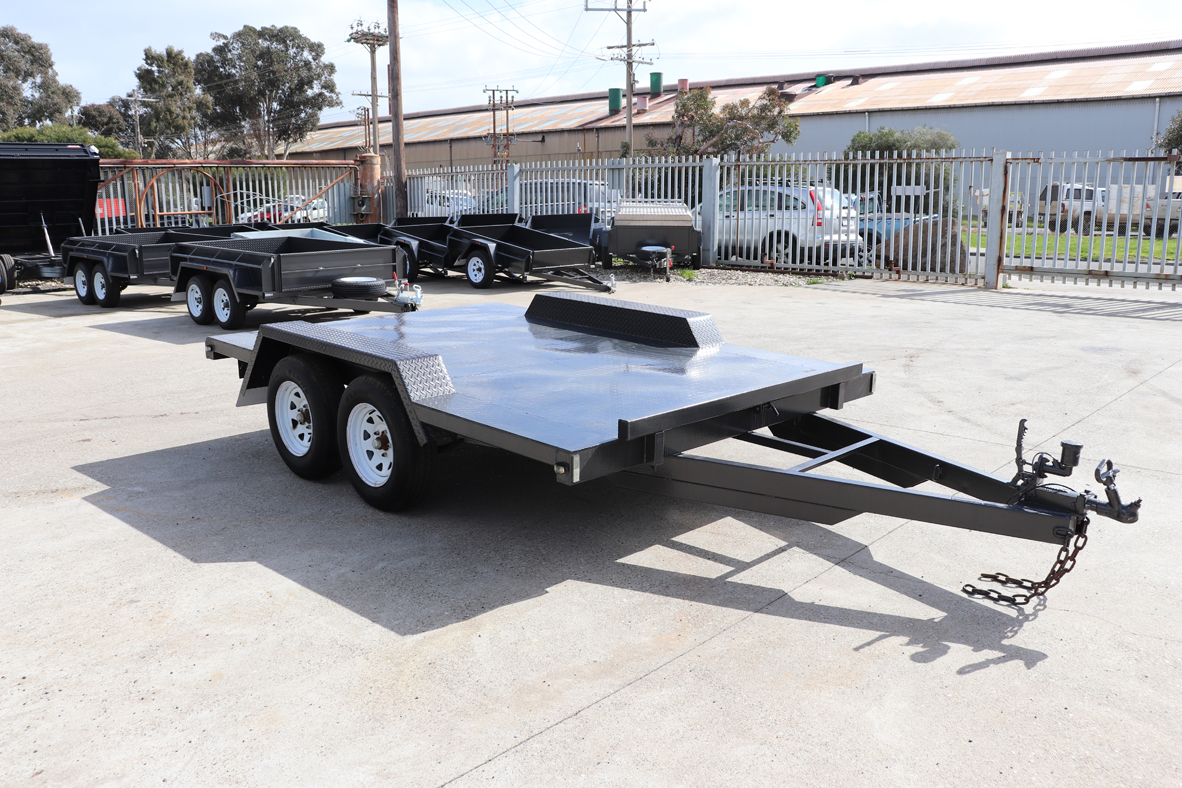 Searching for a car trailer for sale? Victorian Trailers manufactures trailers of all types including several car trailer models. Our trailers in Melbourne are built to last and come with a wide variety of options. At Victorian Trailers you'll find the perfect trailer for your needs. If you can't find what you're looking for we'll custom build it for you. We've been building trailers for over 20 years so can rest easy knowing you've bought a trailer that's built to last a lifetime. We offer competitive prices that can't be matched by our competition. Although you may be able to find a cheaper car trailer for sale you won't find one that comes close to the quality we offer.
Click to Find out More about Victorian Trailers!
Find a Car Trailer for Sale and Much More!
We sell trailers throughout Australia. Our showroom is located in Melbourne but we have authorized vendors in every major city. Just give us a call and we'll let you know where the nearest authorized dealer is located. You can order custom built trailers though our authorized dealers and we'll have your custom built trailer shipped. Our car trailers come in 3 standard models, the flat top, semi flat top and box trailer. All three models are available as a single or double-axle trailer for your convenience.
If you are looking for a car trailer for sale you've come to the right place. Our trailers are available in a variety of paint colours. Visit our website for information on our standard colours and the specialized colours we offer. We can even build your trailer from durable galvanised steel. Galvanised steel will resist rust making it perfect for harsh climates. We also have several options when it comes to brakes, suspension, lights and tyres. You can further customize your trailer by adding a winch, jockey wheel or anchor to your trailer.
You Can Depend on our Merchandise for Years to Come!
We build quality trailers you can depend on for a lifetime. All of our trailers are built according to strict manufacturing codes including the Australian Design Regulations (ADR) and Australian Safety Standards (AS). We carry all types of trailers including box trailers, car trailers, tradesman trailers, cage trailers, motorbike carriers, gardening trailers, plant trailers, tipper trailers, camping/off-road trailers, flat top trailers and stock crates. Whether you're searching for a car trailer for sale or one of our other models you'll get the best quality when you buy a Victorian Trailer. Call or go online for a quote today!
Want to learn more about Victorian Trailers?