33 Trawalla Ave
Thomastown VIC 3074
8:00 AM - 4:30 PM (Mon - Fri)
8:00 AM -12:00 PM on Sat
Tipper Trailers Buyer Guide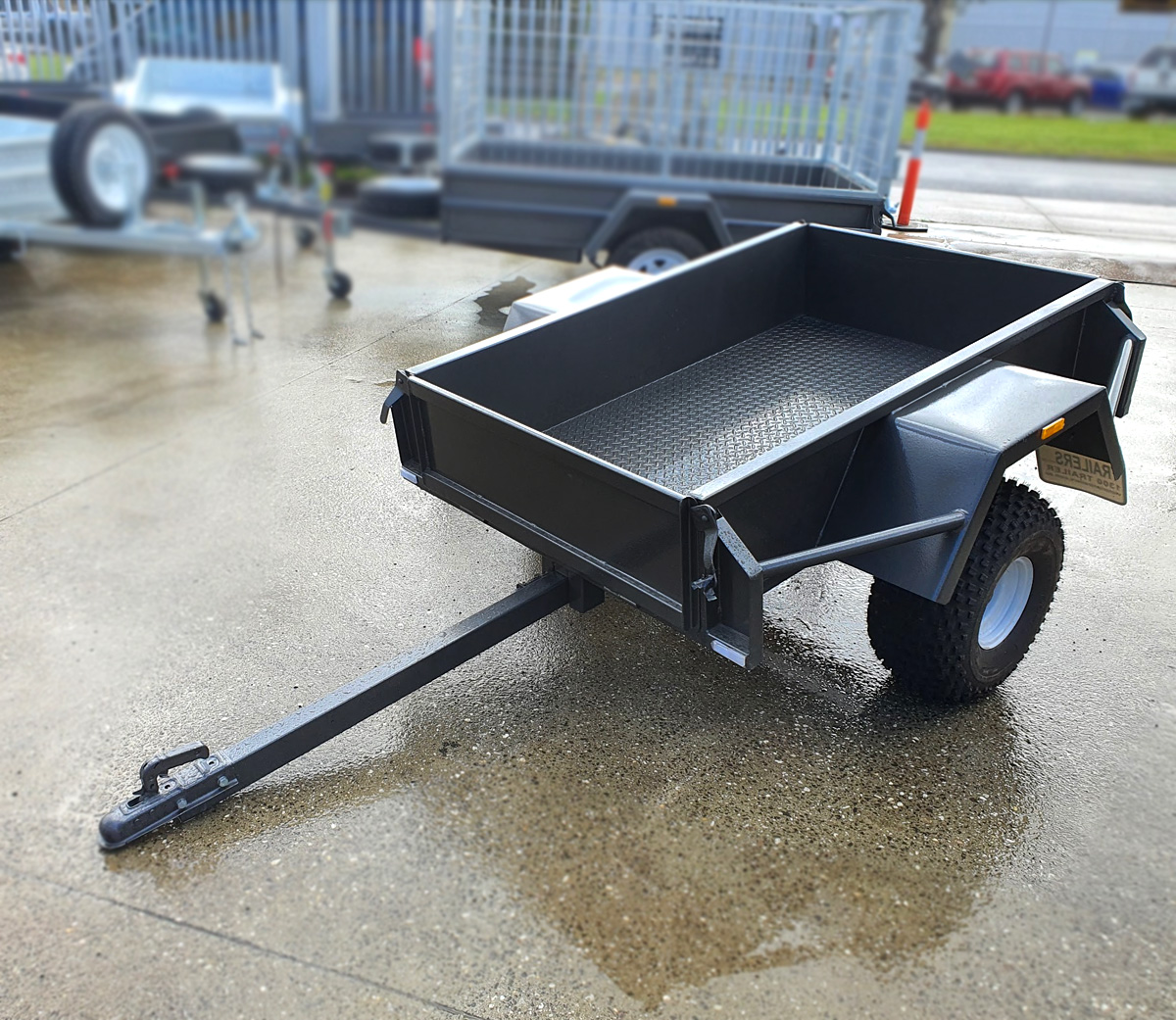 Tipper Trailers in Australia are excellent for transporting things that can slide down and can be dumped. Go through this tipper trailers buyer guide to better understand the requirements and features. Take earth from the construction site. You would use a dumper truck with a tipper that will transport the earth and simply lift its container at an angle to let the earth slide. This is the exact functionality that you find replicated in a tipper trailer. In this case,  the tipper trailer is much smaller than a dumper truck. It can be attached and pulled by any other vehicle, just like a regular trailer.
There are two main type of tripping trailers – electric and hydraulic. Hydraulic tippers are sturdier and used for heavy lifting. Electric tipper trailers are meant for much lighter load. When you walk into the tipper trailer outlet in Australia, take the advice of the dealer about which mechanism to choose. If the pricing is in the same ball park, opt for the hydraulic option. There may be additional requirements on the hydraulic tipper trailer, so check carefully. You do not want to end up with a tipper trailer that you are not permitted use.
The tipper trailer should be made of excellent materials. There are many reputed manufacturers of tipper trailer in Australia. If you are tipping the trailer, whatever is in there will slide on the inner surface of the container. If it simply painted, it will get scratched early in its life cycle. These exposed parts will then corrode quickly, and you will have to go in for repairs. This can quickly become a costly affair. So discuss your requirement with the tipper trailer dealer in Australia.
According to this tipper trailers buyer guide – features of tipper trailer should include a jockey wheel. This wheel is attached near the hooking end of the tipper trailer. Using this wheel you can balance a tipper trailer even when it is not attached to the vehicle.
You can compare a tipper trailer to a box trailer with single axle. Unlike a tipper trailer, the box trailer does not have a tripping mechanism. The box trailer compares to a see-saw since it has only one axle. The front can be lifted quite easily to tilt the rear side. This would have a similar effect as a tipper trailer only without the rise in cost.
Click here to view our range of trailers.
There are two scenarios where the tipper trailer will be preferable than a tilt box trailer. The first scenario is when the weight is too much for the person(s) to lift and tilt. A slightly uneven balance can force the tilt box trailer to tip towards the front. It would take a lot of effort to tilt it back. In the second scenario, you may not want to detach the trailer from the pulling vehicle. Attaching and detaching takes time and effort. If you are making quick rounds of transport, this time can be saved.
Tipper trailers are extremely convenient. You need to be clear about the load that you would be carrying to make the right choice. There exist many reputed manufacturers of tipper trailers in Australia. They would be happy to advise you in the selection process. This advice is indispensable and will assist you in time to come.
Read more about Choosing The Right Tradesman Trailers.