33 Trawalla Ave
Thomastown VIC 3074
8:00 AM - 4:30 PM (Mon - Fri)
8:00 AM -12:00 PM on Sat
Custom or Tradesman Trailer for Sale at Victorian Trailers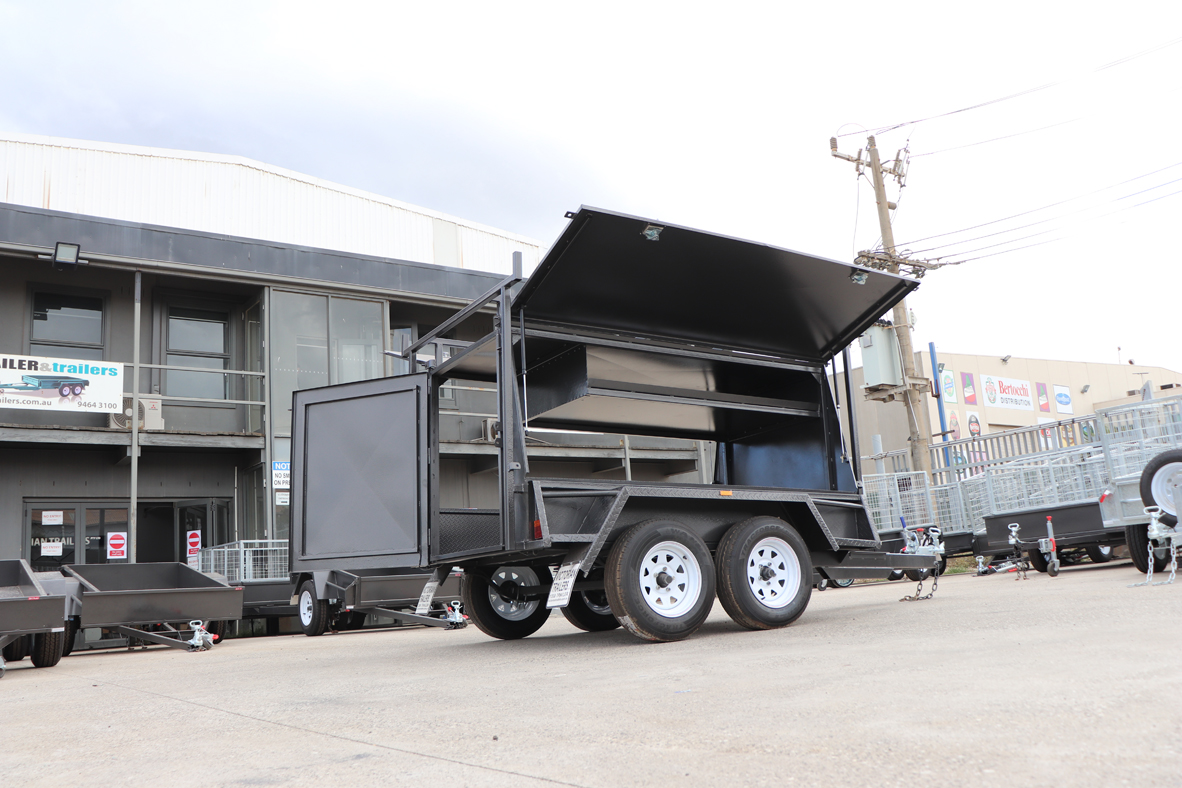 Find a quality tradesman trailer at an authorized Victorian Trailer dealership. We offer high quality tradesman trailers as well as several other popular styles. We've been building reliable trailers for over 30 years. You won't find trailers of this quality at a better price anywhere in Australia.
At Victorian Trailers we take pride in building trailers that will last a lifetime. Our selection includes box trailers, car trailers, tradesman trailers, cage trailers, motorbike carriers, gardening trailers, plant trailers, tipper trailers, camping/off-road trailers, flat top trailers and stock crates. We also offer custom built trailers in case you can't find what you're looking for in our standard inventory.
Click to View Our Huge Range of Items
Many Benefits of Buying a Tradesman Trailer
Buying a tradesman trailer is a great option if your business requires you to haul tools or other equipment on a regular basis. Our standard tradesman trailer comes with an attached toolbox that can be removed by unbolting the box. We also have several other options available upon request. We can create a customized trailer for a variety of trades including catering, welding, landscaping and any other trade that requires a specialized trailer for hauling.
Our custom trailers are available with a wide range of features and in several paint colours. You'll be able to choose between a single-axle or double-axle trailer (tandem trailer). We have several options when it comes to brakes, suspension, lights and tyres. You also have the option of galvanised steel as well as heavy duty construction or standard construction. Galvanised steel is a great option for people who live on the coast or in other harsh climates. All of our trailers can have a jockey wheel, winch or anchor added as well. At Victorian Trailers we have all the options you'll need to create the perfect trailer.
View our Fantastic Credentials!
Victorian Trailers is one of the top trailer manufacturers in Australia. All of our trailers are manufactured according to the strictest industry standards including the Australian Design Regulations (ADR) and Australian Safety Standards (AS). You won't find a better deal on a trailer of this quality anywhere in Australia.
Our showroom is located in Melbourne but if you can't make it to Melbourne just give us a call. We have several authorized dealers throughout Australia and we'll help you find one near you. If you are searching for a tradesman trailer you've come to the right place. Call us or go online for a quote today!
Want to learn more about Victorian Trailers?