33 Trawalla Ave
Thomastown VIC 3074
8:00 AM - 4:30 PM (Mon - Fri)
8:00 AM -12:00 PM on Sat
Best Trailer Manufacturers in Australia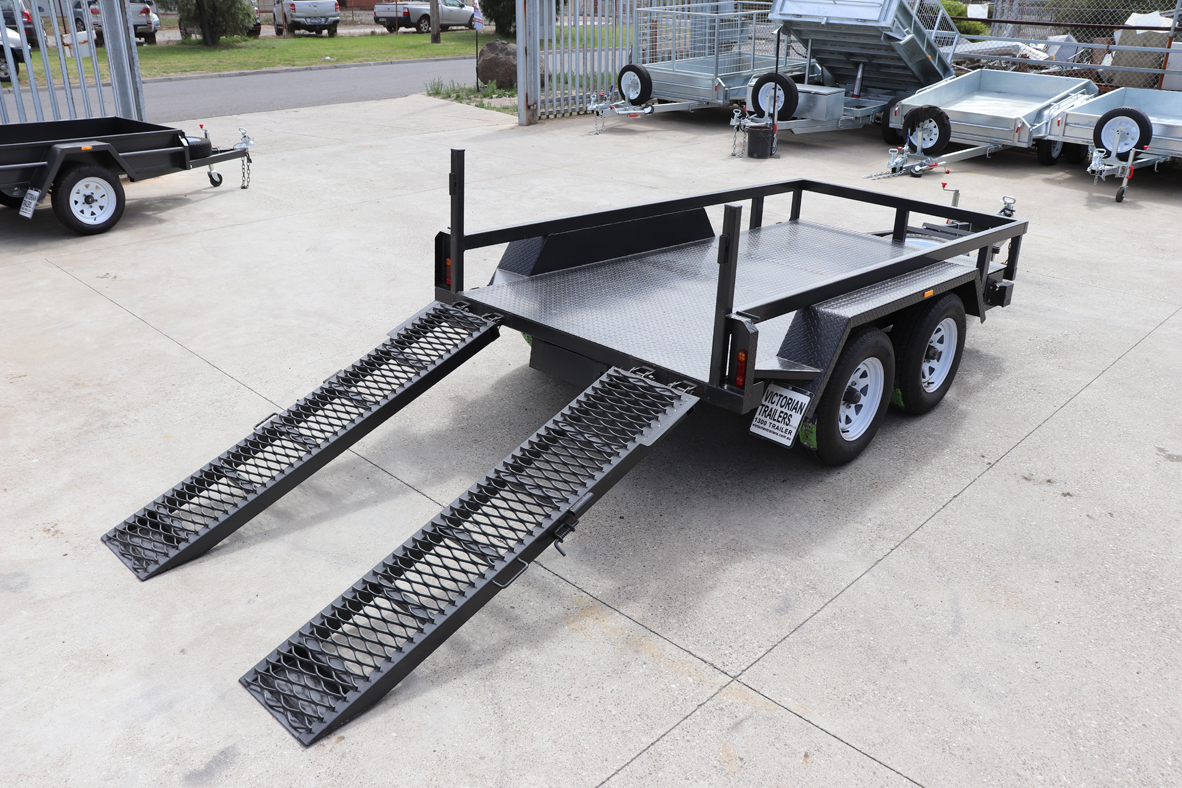 Victorian Trailers is one of the top trailer manufacturers in Australia. We've been manufacturing and distributing trailers throughout Australia for over 20 years. All of our trailers in Melbourne are manufactured using Australian Design Regulations (ADR) and Australian Safety Standards (AS). We have a great selection that includes box trailers, car trailers, tradesman trailers, cage trailers, motorbike carriers, gardening trailers, plant trailers, tipper trailers, camping/off-road trailers, flat top trailers and stock crates. We also custom build trailers in case you can't find what you are looking for in our standard inventory. If you are looking for a well built trailer at a competitive price than Victorian Trailers has what you've been searching for.
Several Trailer Options to Choose From
At Victorian Trailers we offer several options on the trailers we sell including tandem, double-axle and single axle trailers. A double-axle or tandem trailer is better for long distance trips and higher speeds. They offer more stability and fewer problems when a tyre goes flat. Single axle trailers are fine if you plan on using your trailer to haul things around town at slower speeds. You can also choose from several options when it comes to the brakes, suspension, lights and tyres on your trailer. Other trailer manufactures just don't have the range of options we offer at Victorian Trailers.
Click—To find out More about Victorian Trailers!
Best Designs of All Trailer Manufacturers in Australia at Victorian Trailers!
If you are looking for an extremely durable trailer you may be interested in our galvanised steel trailers. Galvanised steel is more durable than standard steel and will hold up in various weather conditions and climates. You can also choose between several paint colours including specialty colours for an additional fee. Visit our website for additional details on the options we offer in terms of colours and features. You can even customize you trailer with a jockey wheel, winch or anchor when you place an order.
Whether you are in the market for a custom built tradesman trailer or something simple Victorian Trailers has what you need. We're one of the best trailer manufacturers in Australia. Can't make it to our showroom in Melbourne? That's okay, just give us a call and we'll connect you with one of our authorized dealers.
Our trailers are available at affordable prices and are guaranteed to stand the test of time. You'll find other trailer manufactures throughout Australia but most won't provide the quality and low prices we have to offer. Call or visit our website for a quote today!
Want to learn more about Victorian Trailers?