33 Trawalla Ave
Thomastown VIC 3074
8:00 AM - 4:30 PM (Mon - Fri)
8:00 AM -12:00 PM on Sat
Why You Should Get Motorbike Trailers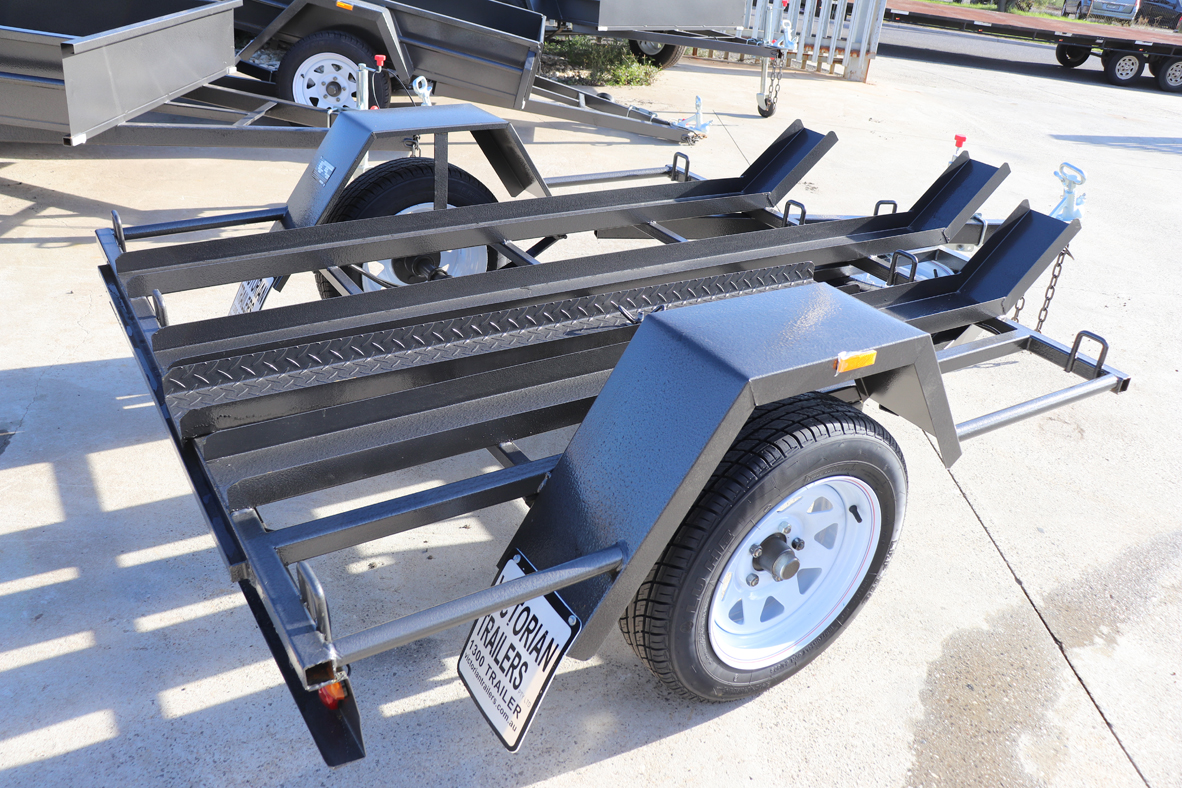 Motor bike trailers in Australia are common, and used to transport motor bikes. Motorbike transport may be for a variety of reasons. These specialized trailers make the job easy. Motorbike trailers in Australia are easy to procure and resell. The prices are extremely lucrative. If you own a car and a motorbike, it would make sense to own a motor bike trailer.
Unlike other trailers, which require some very crucial decision to make a purchase, motorbike trailers are easy to buy. You do not have to care about too many parameters. It is true that you will find a wide choice of motorbike trailers at your motorbike trailer dealer in Australia. The main differences are as follows:
The number of bikes you will be carrying
The size of the bikes
The number years you expect to own the motorbike trailer
The securing mechanisms
If you have only one bike and you will only ever transport one bike, the question of how many bikes you will be transporting gets easily answered. It is exceedingly common in Australia that you share your motorbike trailer. Normally with one or more friends. Motorbike clubs also like to buy motorbike trailers, which can carry multiple bikes. In this way, a bunch of friends can go on a trip together. Motorbike trailer manufacturers in Australia have readymade models for most popular bike types. If you have particular models that you carry often, you can get a trailer that is customized for remarkably little overhead.
The material of the motorbike trailers is the most significant feature. Actually, the cost of the motorbike trailer is directly related to the workmanship. This trailer resembles the raw framework of a trailer. It hardly features any add-ons. The whole stress is laid on quality of frame work and design. Although there are many painted motorbike trailers out there, prefer a framework which has been treated with hot dipped galvanised metal. This will last up to 4 times longer than the painted counterpart. Ensure that the platform parts are made out of durable and thick steel. This will lend strength and longevity to the motorbike trailer.
Click here to read the Frequent Asked Questions (FAQ)
If you are short of cash, you can opt to buy a second hand motorbike trailer. Check for corrosion and rust. Other than that, if it looks good, has good heritage, it will be good. You can also look for motorbike trailers for sale in Australia online. There are many sites which devote themselves to listing of new and old motorbike trailers in Australia.
Australian motor-bikers know their subject matter well, and they appreciate quality. If you buy a new motorbike trailer that is made locally from a reputed motorbike trailer manufacturer, you will have no problem reselling it. Motorbike trailers are competitively priced. The motorbike trailer dealers would be more than glad to point out the salient features of the model they provide. Go and have a chat. It is an excellent time to buy a motorbike trailer in Australia.
Read more about Best Off Road Trailers.