33 Trawalla Ave
Thomastown VIC 3074
8:00 AM - 4:30 PM (Mon - Fri)
8:00 AM -12:00 PM on Sat
Find a Quality Trailer for Sale in Melbourne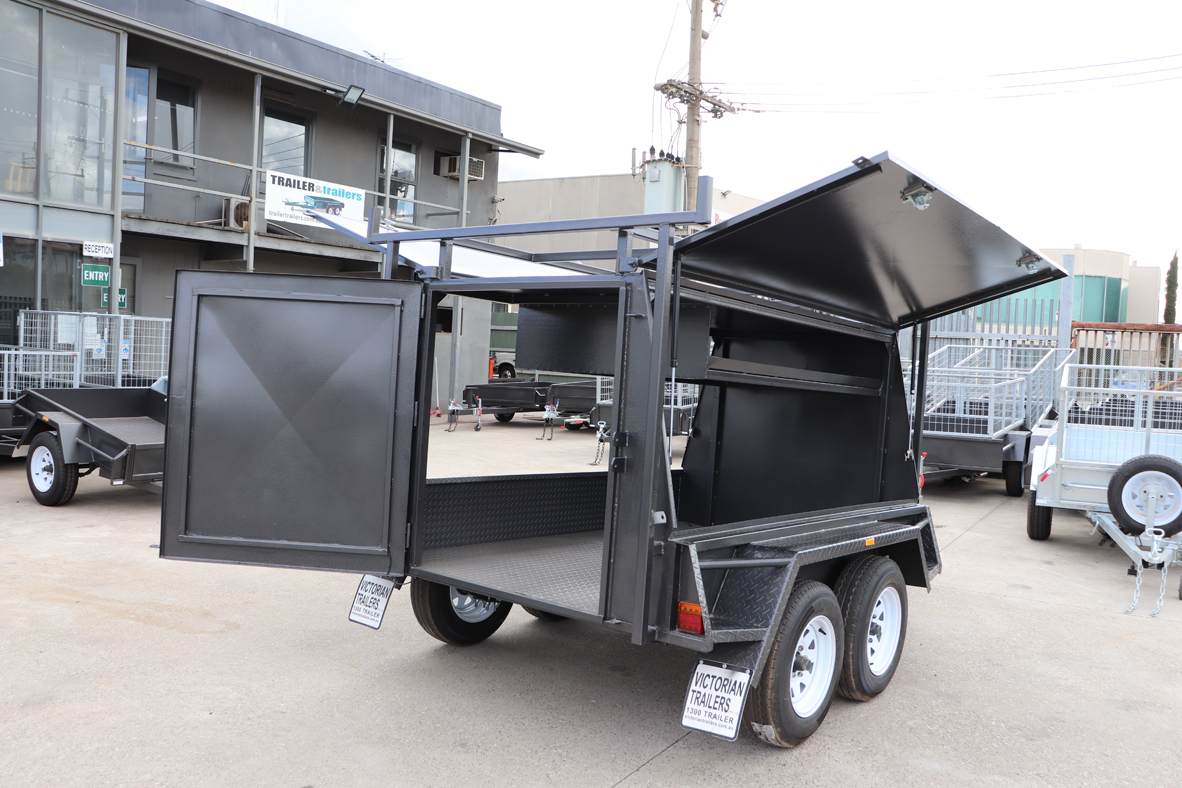 If you've been searching for a trailer for sale in Melbourne you should stop by the showroom at Victorian Trailers. We carry a wide range of trailers including box trailers, car trailers, tradesman trailers, cage trailers, motorbike carriers, gardening trailers, plant trailers, tipper trailers, camping/off-road trailers, flat top trailers and stock crates. All of our trailers in Melbourne are built to last and competitively priced. We also custom build trailers in case you can't find what you are looking for in our showroom. Let us help you find the perfect trailer for sale in Melbourne at the right price.
Click if you want to learn more about us!
Find an Ideal Trailer for Sale in Melbourne at Victorian Trailers
We have several options available on all of our trailers including single axle, double-axle and tandem trailers. If you are looking for a trailer for sale in Melbourne that can handle light loads and occasional use a single axle trailer will be perfect. Single axle trailers are affordable and perfect for around town projects. If you plan on using your trailer daily and going on long trips at higher speeds you'll probably want to spend a little more and buy a double-axle or tandem trailer. A double-axle trailer will handle better on long trips and will bounce less when travelling on the highway. Dealing with a flat tyre is also easier with a double-axle than a single axle trailer.
Custom Suit your Trailer to your Specifications!
You can also choose between several options when it comes to brakes, tyres, lights and suspension. We offer LED lights and standard lights, hydraulic or electric brakes, slipper or roller suspension and standard and heavy duty tyres. You can also add a winch, jockey wheel or anchor to any of our trailers. At Victorian Trailers we have all of the options you need to create the perfect trailer. Finding a trailer for sale in Melbourne is easy when you shop at Victorian Trailers.
At Victorian Trailers all of our trailers are manufactured using the guidelines provided by the Australian Design Regulations (ADR) and Australian Safety Standards (AS). We guarantee that when you buy a trailer though us you'll get a trailer that will last a lifetime at a reasonable price. We've been in business for over 20 years and we have authorized dealers throughout Australia. Just give us a call and we'll help you find an authorized dealer near you. Find the perfect trailer for sale in Melbourne at Victorian Trailers. Call or go online for a quote today!
Want to learn more about Victorian Trailers?