33 Trawalla Ave
Thomastown VIC 3074
8:00 AM - 4:30 PM (Mon - Fri)
8:00 AM -12:00 PM on Sat
Victorian Trailers Stock Trailers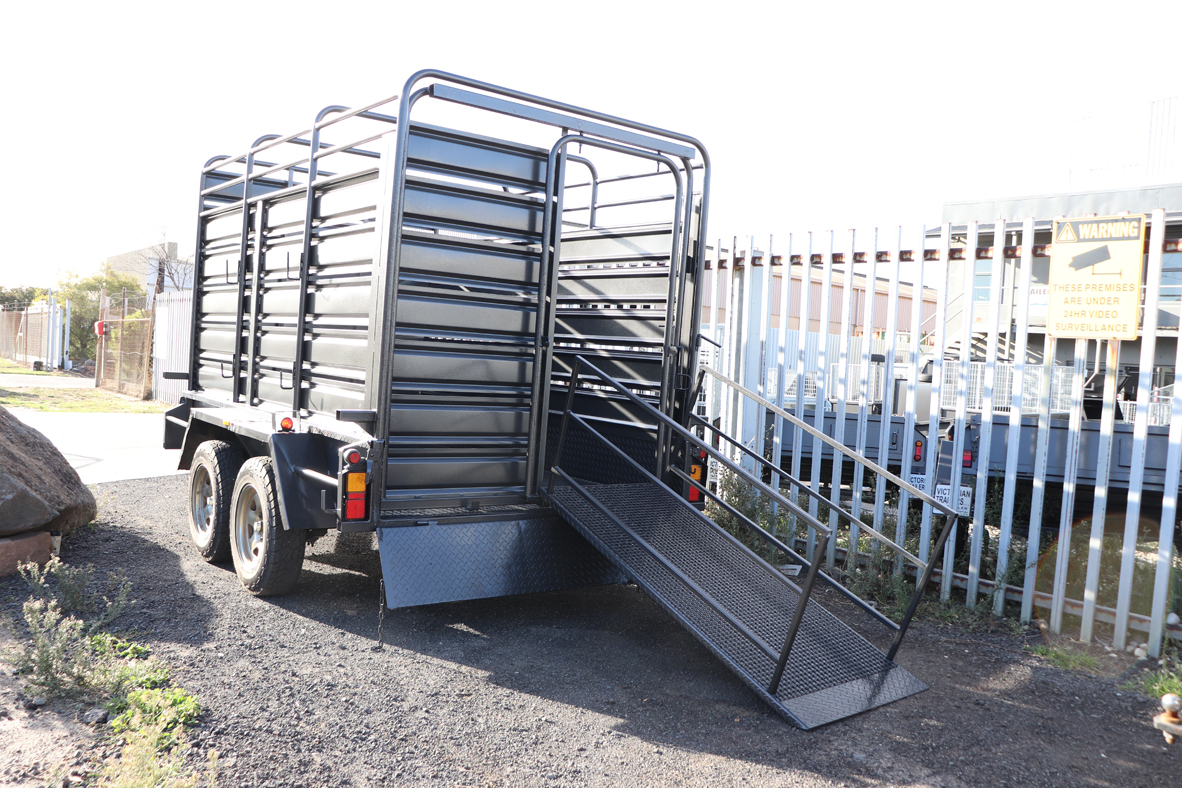 At Victorian Trailers we offer a wide range of Tandem/Dual Axle Stock trailers. Our trailers are built to handle medium or heavy duty use, and are available in several different weight classifications as well. These trailers are configurable as triple or dual axle, and feature a huge selection of upgrade options to ensure you can purchase a trailer that fully meets your needs.
Specifications
Body
Our stock trailer bodies are constructed for either heavy duty or medium duty use, with chassis constructed of medium duty Rectangular Hollow Section steel, with an option to upgrade to heavy duty RHS steel construction. Trailers with a load rating of over 1990 Kg GVM will come with heavy duty axles and chassis'. Our trailers also include rear tailgate, slide door, and ramp, as well as checker plate flooring. These can be upgraded to front tailgates or a tipper.

Suspension
These stock trailers come with either rocker roller or slipper 5 leaf suspension, with an option to upgrade to 7 leaf suspension.
Click here to know more about us.
Brakes and Tie Rails
Our stock trailers come standard with a hydraulic single axle for those with a load rating p to 1990 Kg GVM. You also have available upgrade options as desired:
4 Wheel Electric with Break Away Safe Unit – This option is mandatory for all Flat Top Trailers with a load rating of 1990 Kg GVM
Single Axle Electric
Dual Axle Electric or Hydraulic
Size and Load Ratings
At Victorian Trailers, we offer our stock trailers in a wide range of sizes and load ratings to handle a wide range of usage needs.
8'x5' – 1990Kg, 2500Kg, 2800Kg
9'x5' – 1990Kg, 2500Kg, 2800Kg
10'x5' – 1990Kg, 2500Kg, 2800Kg, 3200Kg
10'x6' – 2500Kg, 2800Kg, 3200Kg, 3800Kg
12'x6' – 2500Kg, 2800Kg, 3200Kg, 3800Kg
12'x6'6" – 3200Kg, 3800Kg, 4200Kg, 4500Kg
14'x6'6" – 3200Kg, 3800Kg, 4200Kg, 4500Kg
16'x6'6" – 3200Kg, 3800Kg, 4200Kg, 4500Kg
Custom – 3200Kg, 3800Kg, 4200Kg, 4500Kg
Upgrade Options
Our stock trailers come with a wide range of upgrade options to help you customise your trailer to your exact needs. These include:
Lights

Female Flat
Male Flat
Round 7 Pin
Round Female to Flat Male Adapters
Round Male to Flat Female Adapters
Side Marker Lights – Oval
Square LED
Rectangular Clear Lens LED
Rectangular LED

Electric Braking System
Hitch Pins

Straight, Locking
L-Shape
D-Shape

Stabilisers
Steps
Straps

Ratchet Tie Down
Heavy Duty Ratchet Tie Down

Locks

2 Way Coupling
Tow Ball
Hitch Pin

Tool Boxes

1220 Wide Angled
1250 Wide
900 Wide Angled
1250 Wide Angled
900 Wide

Winch

Manual
Electric
Heavy Duty Electric

Wheels

5 Stud
4 Stud
Sunraysia Style

Tow Ball
Folding Anchors
E Hooks
About Us
Victorian trailers has over 20 years of experience in constructing quality designs for all of our trailers, allowing us to perfect our designs to ensure they meet the highest quality standards. We provide our customers with trailers that are designed under strict material use, production control, engineering, and design options that provide the safest functionality possible. All of our trailers are in constructed to meet or exceed the standards of the Australian Safety Standards and Design Regulations, and only use the highest quality materials and construction. We are dedicated to providing the highest quality trailers, and our value far exceeds that of our competitors.
Read more about Victoria Trailers – Car Trailers and Victoria Trailer – Flat Top Trailers